A Professional Approach to Minneapolis Area Roof Snow & Ice Dam Removal
It's no secret that Minnesota can experience harsh, frozen winters and heavy snowfall. Don't risk roof or property damage to your home or office this season. Instead, turn to Nice Dam Guys in Minneapolis, MN. We provide safe and effective roof ice dam removal and prevention services for homes and businesses in our community. Day or night, we'll come out to remove snow and ice from your roof and keep your building secure.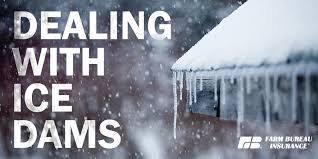 Climbing up on your roof to remove snow or ice dams can be dangerous. Before you climb up on your steep roof to shovel, reach out to for Nice Ice Dam Crew to:


Safely climb onto your roof and remove snow.
Make sure your chimney and attic vents are clear.
Remove ice dams without damaging your roof.
There is multiple reasons why Ice Dams form on building structures. Two of the most common reasons are a lack of insulation and to much snow on your roof.

Most times when we get large amounts of snow or as we get enough snow built up over time the snow starts to cover up your vents. These roof vents you don't think about often but they are very important. As heat rises your roof needs to breath, these vents allow your roof to do that. Now if your vents are clogged the heat has no where to go, so then it starts to heat up your roof. Once your roof heats up the snow melts, as it reaches the 2' overhang on the edge of your home that is no longer heated it now freezes. Over days of this happening ice dams get large and start to hold water. Once there is to much water it breaks through your roof and you have an unwanted waterfall inside your home or walls.
Ice Dam Crew is one of Minnesotas leading and trusted Ice Dam Removal Company. Ice Dam Crew is fully bonded and Insured for all residential and commercial properties in Minnesota, Wisconsin, Iowa, North Dakota & South Dakota. We are a family owned company that guarantees to stop your leak within 30 minutes of arrival. We use low pressure steamers that are custom made for ice dams so they do not damage your roof. We do NOT use hot water pressure washers like most Ice Dam Removal companies do as these damage your roof and shingles when they blast 4000 PSI out of the tip of the hose and do not burn as hot as a true custom steamer. Please see our FAQ's page to see the difference between our True Steamer and our competitors hot water pressure washer.

Although Ice Dam Crew may not be the "Cheapest" company out there, we guarantee customer satisfaction while still being fully bonded and insured.
Low Pressure Steam
Satisfaction Guaranteed
Fully Bonded & Insured
Commercial
Residential
Residential Homes
Cabins
Restaurants
Movie Theaters
Anywhere Ice Builds Up! On the roof or ground